Never bin a battery campaign
The 'never bin a battery' campaign includes a set of resources to communicate consistent messages about taking loose batteries and old rechargeable devices to convenient drop-off points at local supermarkets, office supply shops, local libraries and more. The resources aim to interrupt incorrect household behaviours, specifically the placing of household batteries and e-waste in the kerbside collection bins.
The assets include bin stickers, videos, radio ads, social media content and web banners featuring the 'Take' character from the GREAT Sorts behaviour change campaign. They are available for use by local governments, regional councils and other stakeholders and can be downloaded below.
Some stakeholders may wish to co-brand assets or use elements of the campaign to deliver their own specialised waste recycling messages. Should alteration of creative assets be required, please call the Department of Water and Environmental Regulation on (08) 6364 6979 or email info@wastesorted.wa.gov.au.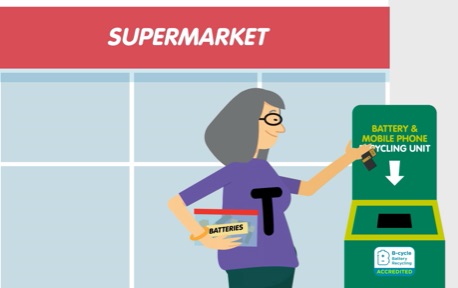 Individual assets for
Never bin a battery campaign
| Asset | Last Updated | Preview | Download |
| --- | --- | --- | --- |
| Never bin a battery email signature | 20 July 2022 | preview | download |
| Asset | Last Updated | Preview | Download |
| --- | --- | --- | --- |
| Never bin a battery OOH advertising | 19 July 2022 | preview | download |
| Asset | Last Updated | Preview | Download |
| --- | --- | --- | --- |
| Never bin a battery 6 second videos | 20 July 2022 | | download |
| Never bin a battery 10 second video | 20 July 2022 | | download |
| Never bin a battery 15 second videos | 20 July 2022 | | download |
| Never bin a battery 30 second videos | 20 July 2022 | | download |